Special Guest:
Film Star Diego Luna, was present for the opening of Hotel California's Gourmet Bistro Santo Vino which hosted the first night dinner for the 8th Annual Todos Santos Film Festival.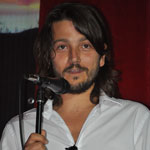 8th Annual Todos Santos Film Festival, March 4th 2011...

Read More
via Destino Los Cabos
Dave DeWitt, "The Pope of Peppers" stopped by the Hotel California one recent afternoon and went fishing with Chef Dany, and his son. We ended up with 33 lbs of cleaned filets, and decided why not throw a party? Once again Santo Vino was host; this time what would best be described as a fish-fiesta!
Rick Bayless:
World Famous Chef Films T.V. Show for the 8th season of his PBS show "Mexico, One Plate at a Time" at Hotel California, La Coronela Restaurant/Bar, and Santo Vino.


In the restaurant's bar Rick enjoyed Chef Dany's signature Damiana Margarita. Rick has graciously given the hotel its newest cocktail, "The Rick Bayless Market Margarita," refreshingly made with cucumbers and of course our
Hotel California Tequila.
View behind the scenes (video) Read more about Rick
Hotel California now has a great selection of memorabilia including our famous T-Shirts and Hats. New styles and special edition shirts are also offered on a limited basis. They can be purchased either at the hotel's Emporio or online from our website.
Follow us on Facebook and Twitter for the latest updates and specials.
"CABO SOCIAL MAGAZINE"
Best of Cabo Award 2010: Winner - Hotel California
"Best Drinks Beyond Cabo"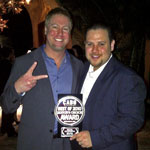 Accepting the award: Co-owners Brent Massman
&
Alejandro Blanco
On December 3rd 2010,
Hotel California became a
proud member of the
Los Cabos Visitors &
Conventions Bureau.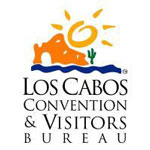 Have you sampled all 3 of our Premium Tequilas? Blanco (Double Gold Winner of the
2009 SF Spirits competition) Reposado, aged in oak for 6 months, Brand new Anejo, a
Gold Winner in the SF Spirits competition for 2010, aged 28 months in oak barrels.
Incredible smoothness and
great taste!